The Pelicans Come Back to Louisiana
I first saw a real live brown pelican four years ago, but in Florida, not Louisiana. The place was Cocoa Beach on the Atlantic Coast near Kennedy Space Center. A pelican was sitting on a pier piling, simply watching all the people walking by. I'd never seen one before, but it was hard to mistake. No other bird looks even remotely like a pelican. I was stunned. I'd hardly have been more surprised if I'd seen a unicorn calmly sunning itself on the beach. But apparently this wasn't too uncommon, since none of the locals were as surprised as I was. Later that day I saw several more pelicans flying along the shore.
A couple of years ago, I saw my first Louisiana pelican. It was along the moon walk on the Mississippi river, just across the levee from Jackson Square in the French Quarter. Several pelicans were flying upriver, apparently oblivious to the excitement they were generating on shore. Louisianians didn't seem as blase about pelicans as the Floridians had, seeing as how I was not the only person pointing excitedly at the sky and shouting "Look! Pelicans!" (Then again, in that neighborhood, everyone else could have been tourists from Oklahoma.) And then the pelicans flew away, and that was that.
Last week I went back to Louisiana for a conference. This was my first trip to New Orleans in late Winter/early Spring in about ten years. I had some free time on Sunday before my talk on Monday; and as usual at this time of year in New Orleans, the weather was hovering between 50 and 70 degrees, so I decided to go for a walk. I was strolling along the Seventeenth Street Canal between I-10 and the pumping station, watching a few mallards and some grey and black ducks I didn't recognize swimming around.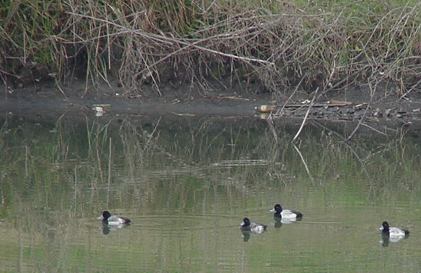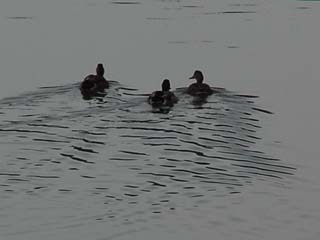 Then I saw a strange shadow flit across the water. I looked up but didn't spot anything. A minute or two later I saw the shadow again, but this time I spotted the bird that made it. It was a brown pelican! A few seconds later another came winging in from the North. I watched this pair for about ten minutes. They flew up and down the canal, occasionally dropping into the water, which I'd never seen a pelican do before. They stick out their wings, bringing themselves to a quick stall in the air, flip over about 90 degrees so their head is aimed down, and then fall into the water like a rock with a beak. I've never seen a bird do anything like it before. They repeated this, flying up and down the canal, and occasionally falling in on purpose, and then flew off down the canal to the lake. But the best was yet to come.
---
Previous Page | Next Page
---
Go back to Rusty's online journal | Previous entry
---
Copyright 2000 Elliotte Rusty Harold
elharo@macfaq.com
Last Modified March 4, 1999